I've been working on an art project which takes the top 10 videos in YouTube and tries to resynthesize the #1 video in YouTube using the remaining 9 videos. The computational model is based on low-level human perception and uses only very abstract features such as edges, textures, and loudness. I've created a new synthesis each week using the top 10 of the week in the hopes that, one day, I will be able to resynthesize my own video in the top 10. It is a viral algorithm essentially but it is not proven if it will succeed or not.
The database of content used in the recreation of the above video comes from the following videos:
#2 News Anchor FAIL Compilation 2012 || PC
#3 Flo Rida – Whistle [Official Video]
#4 Carly Rae Jepsen – Call Me Maybe
#5 Jennifer Lopez – Goin' In ft. Flo Rida
#6 Taylor Swift – We Are Never Ever Getting Back Together
#7 will.i.am – This Is Love ft. Eva Simons
#8 Call Me Maybe – Carly Rae Jepsen (Chatroulette Version)
#9 Justin Bieber – As Long As You Love Me ft. Big Sean
#10 Rihanna – Where Have You Been
It looks and sounds like an abstract mess.
Today, I've received a somewhat automated copyright violation notice from YouTube (shown below) suggesting my smashup of "11 Month Old Twins Dancing to Daddy's Guitar (YouTube Smash Up)" (shown above via Vimeo instead of YouTube) are infringing the "audiovisual content administered by: Rightster" (their website describes them as: "Services that optimise the distribution and monetisation of live + on demand video for sports rights holders, news networks, event owners and publishers"), and my account has been placed under "Not a good standing". Acknowledging infringement seems to be the suggested path via YouTube's automated copyright infringement system (see pictures below). Though perhaps I should instead dispute under fair-use terms, and risk my account being banned if my dispute is "fradulent".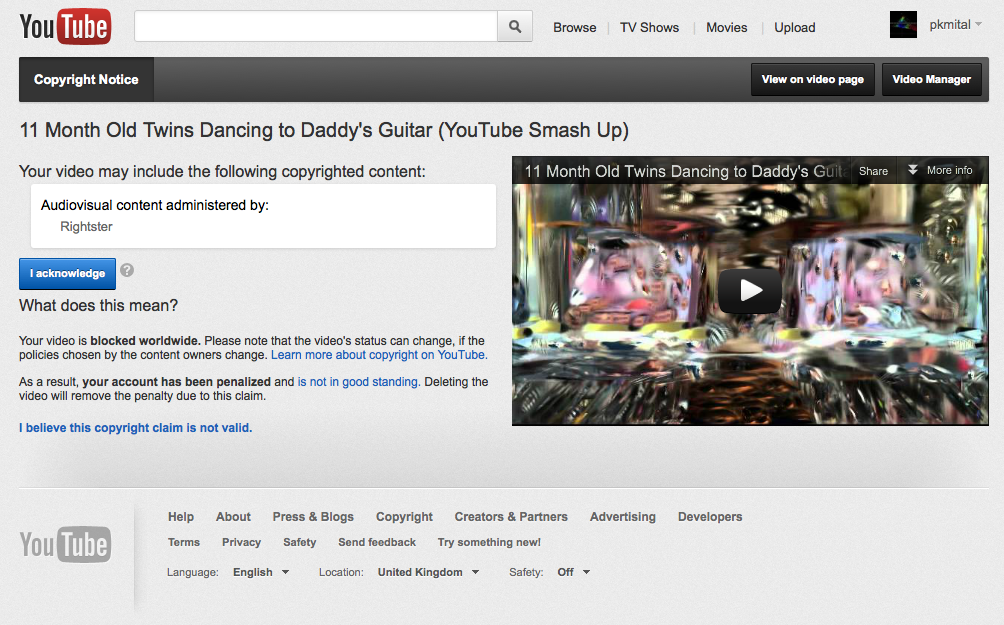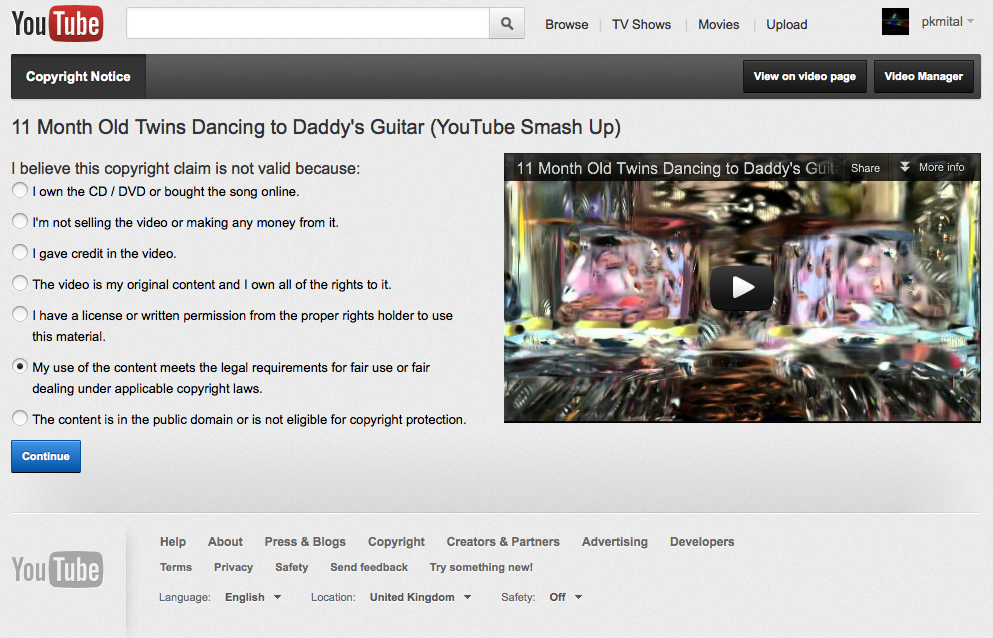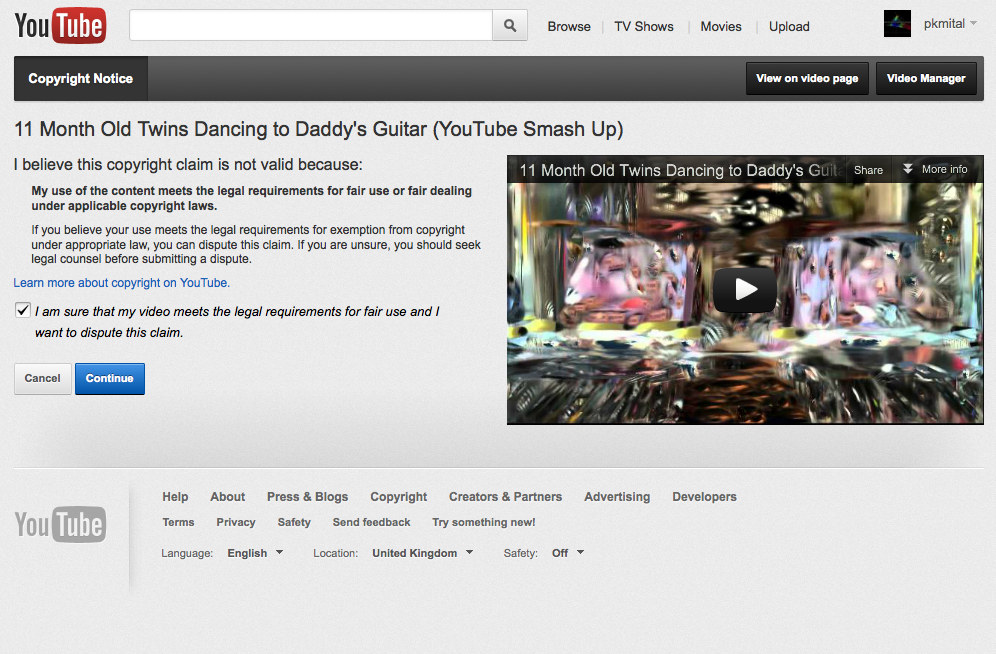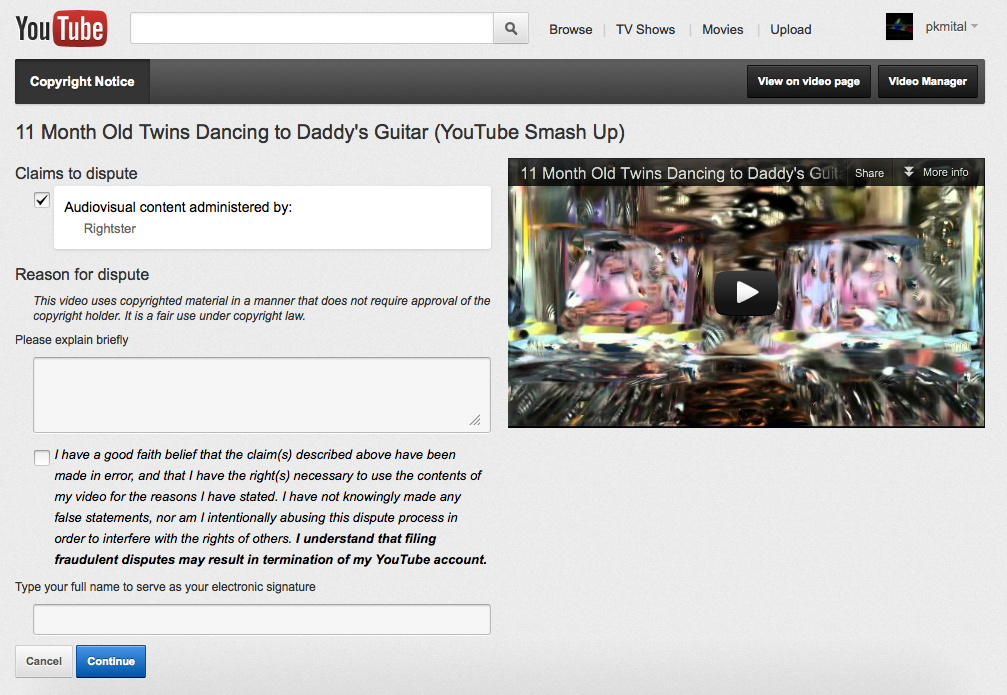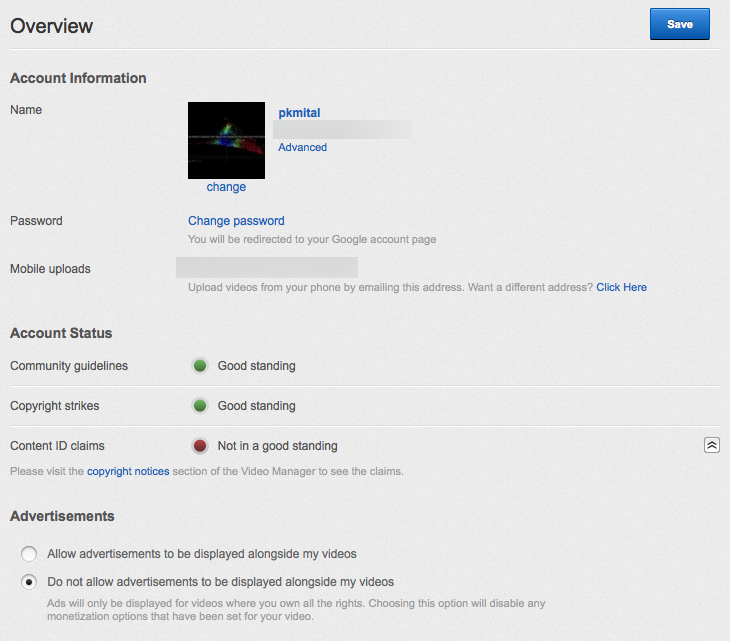 [UPDATE: 17/10/12]: I've disputed the claim and my account status is still "Not in a good standing" (though I have no idea what this means). YouTube says they will temporarily put the video back online though this may change at any time:
"After your dispute has been submitted, your video will soon be available on YouTube without ads for third parties. This is a temporary status and might change at any time. Learn more about copyright on YouTube.
As a result, your account has been penalized and is not in good standing. Deleting the video will remove the penalty due to this claim."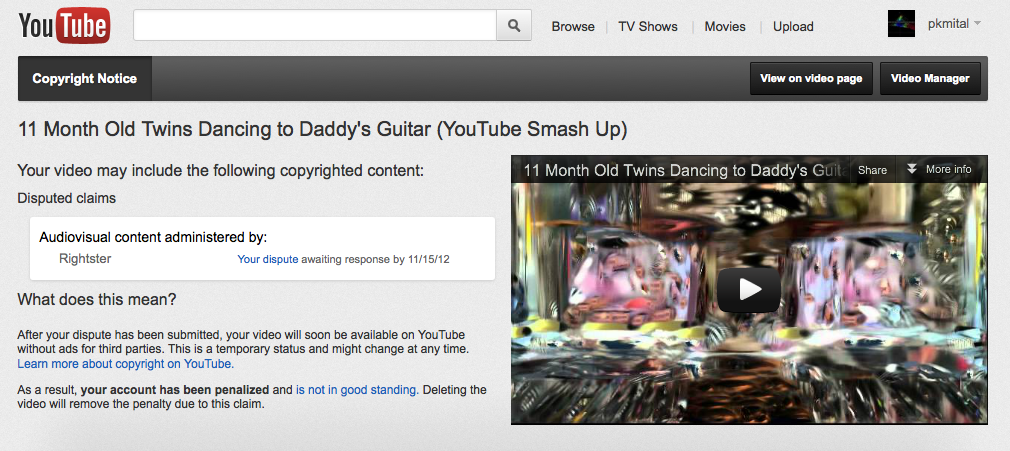 Related: YouTube's "Copyright School", Intention in Copyright, EFF Wins Renewal of Smartphone Jailbreaking Rights Plus New Legal Protections for Video Remixing