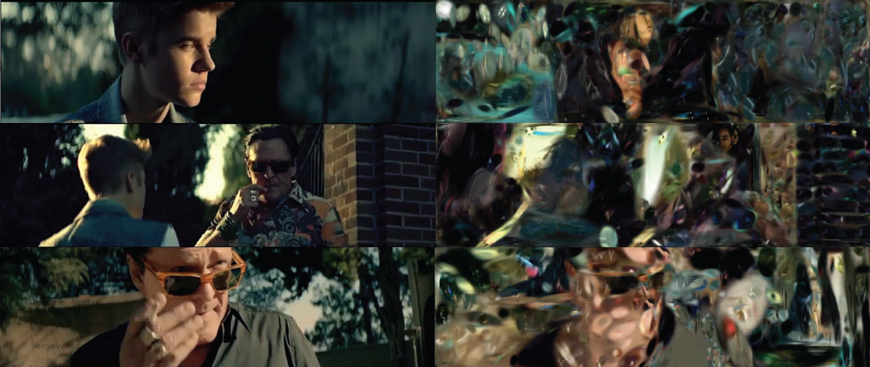 Introduction
YouTube Smash Up attempts to generatively produce viral content using video material from the Top 10 most viewed videos on YouTube. Each week, the #1 video of the week is resynthesized using a computational algorithm matching its sonic and visual contents to material coming only from the remaining Top 10 videos. This other material is then re-assembled to look and sound like the #1 video. The process is not copying the file, but synthesizing it as a collage of fragments segmented from entirely different material.
Using YouTube's interface, the videos are also textually tagged with popular culture's "most viewed" artifacts, i.e. the database containing the Top 10 YouTube videos. This process attempts to inject the video into populous masquerading as an innocent tribute video. The video's audience, often viewers hoping to find the original #1 video, are almost certainly disturbed by the videos, as illustrated by the video's overwhemingly negative "like" ratio, and by comments such as, "now im [sic] blind", "Will someone kill me in my sleep because I watched this video?" and another commenter's reply to the previous comment, "me 2 [sic]".
Despite their poor reception, likely due to their cut-up and abstract nature, most smashups have been the subject of copyright violations from YouTube's automated copyright infringement detection system, Content ID. In each case, Content ID flags the videos as duplicates of the #1 video, rather than flagging any of the content actually used from the #2 – 10 videos. This automated system attempts to automatically discover copyrighted content in newly uploaded videos, informing the original content holders if it finds anything. Most likely, the content rights holders never watch the supposedly infringing videos, and instead forward a cease and desist notice threatening a lawsuit. Despite the powerful language used by the content right holders, the videos were all put back online after multiple rounds of fair use arguments and even more cease and desist notices.
The videos manipulate a level of representation indistinguishable by a robot perception, a space between pixels and perception, juxtaposing cultural fragments at a proto-object layer in an entirely automated process: Miley Cyrus's lips collaged against the background of a troupe of dancing animals or Psy's forehead dancing without the remaining pieces of Psy. Within this space, a disjunct between a state-of-the-art robot perception and those of unsuspecting YouTubers is revealed, asking what constitutues a copyright-able cultural artifact, as algorithms become increasingly more intelligent and as data continues to be manipulated by even more complex pattern recognition and information retrieval algorithms. Finally, the videos attempt to probe a dystopian future of automated content generation, when computer algorithms are not only capable of modeling cultural artifacts but also producing them, further embracing their present role as mere content curators.
Research
We've written up the process here: http://pkmital.com/home/corpus-based-artistic-stylization/ and it is published here: Parag K. Mital, Mick Grierson, and Tim J. Smith. 2013. Corpus-based visual synthesis: an approach for artistic stylization. In Proceedings of the ACM Symposium on Applied Perception (SAP '13). ACM, New York, NY, USA, 51-58. DOI=10.1145/2492494.2492505 http://doi.acm.org/10.1145/2492494.2492505
Software
You can download an app for producing generative visual collages in my free iPhone/iPad app PhotoSynthesizer. It only does images, and is very limited in what it can do as there is no access to the settings of the algorithm. There is also an app for producing generative audio collages using the microphone or your iTunes Library called Memory Mosaic.
Related
Some of the earlier work I've done can be found on my website such as a resynthesis of Jan Svankmajer's work, a resynthesis of The Simpson's intro using only the Family Guy, and a resynthesis of Michael Jackson's Beat It using Nature Recordings. See this blog post expanding on the issue of copyright in my work in more detail.
Week 9 | Pharrell Williams – Happy (Official Music Video) (YouTube Smash Up)
#2 Chris Brown – Loyal (Explicit) ft. Lil Wayne, Tyga
#3 Lady Gaga – G.U.Y. – An ARTPOP Film
#4 TEENAGE MUTANT NINJA TURTLES – Official Trailer (2014) [HD]
#5 John Legend – All of Me
#6 Kevin Bacon's Footloose Entrance
#7 Katy Perry – Dark Horse (Official) ft. Juicy J
#8 #SELFIE (Official Music Video) – The Chainsmokers
#9 X-Men: Days of Future Past | Official Trailer 2 [HD] | 20th Century FOX
#10 The Voice IT | Serie 2 | Blind 2 | Suor Cristina Scuccia – #TEAMJ-AX
Week 8 | Emotional baby! Too cute! (YouTube Smash Up)
#2 Ylvis – The Fox (What Does the Fox Say?) [Official music video HD]
#3 Romeo Santos – Propuesta Indecente
#4 Eminem – The Monster (Audio) ft. Rihanna
#5 Guns N' Roses – November Rain
#6 Prince Royce – Darte un Beso
#7 The Ohio State University Marching Band Performs their Hollywood Blockbuster Show
#8 Avicii – Wake Me Up (Official Video)
#9 Passenger – Let Her Go [Official Video]
#10 Lou Reed – Perfect Day
Week 7 | Ylvis – The Fox ( What does the Fox say?) [Official music video HD] (YouTube SmashUp)
#2 Mike WiLL Made-It — 23 ft. Miley Cyrus, Juicy J & Wiz Khalifa
#3 "#Hashtag" with Jimmy Fallon & Justin Timberlake
#4 Avicii – Wake Me Up (Official Video)
#5 GoPro: Fireman Saves Kitten
#6 Miley Cyrus – Wrecking Ball
#7 Prince Royce – Darte un Beso
#8 Passenger – Let Her Go [Official Video]
#9 Naughty Boy – La La La ft. Sam Smith
#10 Katy Perry – Roar (Official)
Week 6 | Miley Cyrus – Wrecking Ball (YouTube SmashUp)
#2 Ylvis – The Fox [Official music video HD]
#3 Phonebloks
#4 Tomorrowland 2013 | official aftermovie
#5 Katy Perry – Roar (Official)
#6 Eminem – Berzerk (Official) (Explicit)
#7 Passenger – Let Her Go [Official Video]
#8 ?????? ??? " ?????? ???????????????????????? " TrueMove H : Giving
#9 Evanescence – My Immortal
#10 Prince Royce – Darte un Beso
Week 5 | PSY – GANGNAM STYLE (?????) M/V (YouTube SmashUp)
#2 ADELE – Skyfall
#3 [Live HD 720p] 120715 – PSY – Gangnam style (Comeback stage) – Inkigayo
#4 The Ohio State University Marching Band – TBDBITL Halftime 10-6-12 Video games Nebraska
#5 PSY Gangnam Style Sub Español Official Video
#6 David Guetta – She Wolf (Falling To Pieces) ft. Sia
#7 Maroon 5 – One More Night
#8 PSY Gangnam Style ?? ?? ??? Seoul Concert for Fans Seoul City Hall Korea
#9 Martyn Ashton – Road Bike Party
#10 PSY (ft. HYUNA) ?? ? ? ???
Week 4 | 11 Month Old Twins Dancing to Daddy's Guitar
#2 News Anchor FAIL Compilation 2012 || PC
#3 Flo Rida – Whistle [Official Video]
#4 Carly Rae Jepsen – Call Me Maybe
#5 Jennifer Lopez – Goin' In ft. Flo Rida
#6 Taylor Swift – We Are Never Ever Getting Back Together
#7 will.i.am – This Is Love ft. Eva Simons
#8 Call Me Maybe – Carly Rae Jepsen (Chatroulette Version)
#9 Justin Bieber – As Long As You Love Me ft. Big Sean
#10 Rihanna – Where Have You Been
Week 3 | Call Me Maybe – Carly Rae Jepsen
#2 Flo Rida – Whistle [Official Video]
#3 Call Me Maybe – Carly Rae Jepsen (Chatroulette Version)
#4 G-DRAGON – ONE OF A KIND M/V
#5 I Was Here (United Nations World Humanitarian Day Perform…
#6 Justin Bieber – As Long As You Love Me ft. Big Sean
#7 Muse – Madness (Lyric Video)
#8 LEAKED Official Apple iPhone 5 Promo Video – Keynote 2012
#9 will.i.am – This Is Love ft. Eva Simons
#10 Rihanna – Where Have You Been
Week 2 | Call Me Maybe – Carly Rae Jepsen (Chatroulette Version)
#2 La Educación Prohibida – Película Completa HD
#3 Carly Rae Jepsen – Call Me Maybe
#4 Justin Bieber – As Long As You Love Me ft. Big Sean
#5 Flo Rida – Whistle [Official Video]
#6 will.i.am – This Is Love ft. Eva Simons
#7 We Are Never Ever Getting Back Together (Lyric Video)
#8 Gotye – Somebody That I Used To Know (feat. Kimbra) – official video
#9 Rihanna – Where Have You Been
#10 Jennifer Lopez – Dance Again ft. Pitbull
Week 1 | Justin Bieber – As Long As You Love Me ft. Big Sean
#2 Flo Rida – Whistle [Official Video]
#3 Carly Rae Jepsen – Call Me Maybe
#4 Luan Santana – Te Vivo (Clipe Oficial)
#5 Reik – Creo En Ti